TRAC Announces Bethel, Maine Artist, Melanie Tornberg, as October-November Show
Date: October 5, 2019 - November 10, 2019
Location: Table Rock Arts Center, Bethel
---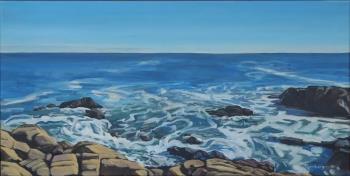 TRAC Announces Bethel, Maine Artist, Melanie Tornberg,
as October to mid-November 2019 Art Show
Artist's Reception on October 5th from 4:00 – 5:30 pm. Music by Monica Mann
September 18, 2019, Newry & Bethel, Maine: Table Rock Arts Center (TRAC) is honored to announce its newest exhibition, The Paintings of Melanie Tornberg, as TRAC's next exhibition. The installation will run from October 5 – November 10, 2019.
TRAC celebrates Melanie and her work with an Artist's Reception on Saturday, October 5, 2019 from 4:00-5:30 pm at 162 Main Street in Bethel. The event is open to the public.
A native of Maine, Melanie Tornberg created her first oil painting at the age of twelve while taking after school art classes with the Western Maine Art Group. Melanie learned the basics of realistic painting from WMAG founders Lajos Matolcsy and Lee Bean. Focused on art, after high school Melanie entered the BFA program at the University of New Hampshire, where she studied with painters John Laurent and John Hatch.
Over the years, Melanie's painting style has evolved into something looser and reflects the hills and mountains of the area near her home in Bethel.
"Creating art is a joyous thing for me," says Tornberg. "Living and working in Bethel and the Mahoosuc region is a privilege. I love this gorgeous area where I never run out of inspiration to paint. Every day I get to do what I love to do best—just sit and paint. It brings me great joy and I consider myself one of the luckiest people around because of it."
Melanie has claimed top prizes at local juried art exhibitions, including the Mahoosuc Land Trust Art Show in Bethel and the WMAG Summer Art Show in Norway. For the past three years, she has served as the President of the Western Maine Art Group.
About Table Rock Arts Center (TRAC)
Table Rock Arts Center is an integrated environment featuring two gallery spaces—one for multimedia and one for shows, workshops and whimsical home décor. TRAC nurtures the fine arts and the sense of place, providing a heightened cultural experience for the community. Every six to eight weeks, a new featured artist is installed, accented by TRAC's home décor pieces. The gallery presents a wide diversity of artistic expression and experience.
207.432.7239