The Holiday Show and 40th Anniversary Celebration
Date: December 2, 2017
Time: 01:00 PM - 03:00 PM
Location: 146 Middle St, Portland
---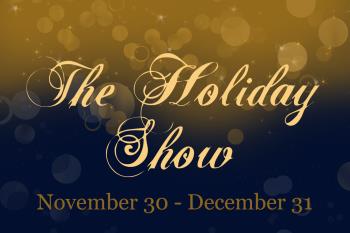 CELEBRATING OUR 40th YEAR ANNIVERSARY
exhibiting new work by Greenhut artists
Join us Saturday, the 2nd of December 1:00pm to 3:00pm
Show runs from November 30 - December 31
refreshments will be served
HIGH RESOLUTION IMAGES AVAILABLE UPON REQUEST
What's your favorite arts and culture landmark of 1977? Fleetwood Mac Rumours? Star Wars? Beatlemania on Broadway? Ours is easily local legend Peggy Greenhut Golden establishing Greenhut Galleries in the Old Port! Join us as we celebrate Greenhut's 40th anniversary, its consistently fabulous roster of artists, and its proud distinction as Portland's oldest year-round gallery.
Since the early 19th century, the rugged and intense beauty of Maine's land- and seascape, as well as its famed quality of light have attracted and energized generations of artists. For them, Maine is both a geographic location and a site of artistic inspiration and creative freedom -- a state of the union, but also a state of mind. Maine has been and continues to be vitally important to American art, and Greenhut is thrilled to play its part. In Peggy's words, "It has been most gratifying for Greenhut Galleries to further the tradition of art in the State of Maine. We all work very hard at the gallery, but the artists we represent are the heart and soul of Greenhut."
As the gallery has grown, so too, have the reputations of its artists, whose styles span the spectrum from realism to abstraction, with a wide range of subject matter in both two- and three-dimensional media. Greenhut represents a diverse group of over 30 Maine painters and sculptors, each selected not only for their technical skill, but also for his or her distinct voice and unique vision. The gallery is also proud to show work from the estates of Robert Hamilton, Maurice Freedman, Jon Imber, and most recently, Neil Welliver and Frederick Lynch.
Kelley Lehr and John Danos have implemented a strong social media presence with a long-term vision of dramatically expanding outreach and followship. They are planning big changes to the website in 2018 and special events, so stay tuned! To see of what's in store this coming year be sure to visit our UPCOMING EXHIBITION page. Thank you for your patronage and we look forward to your next visit to the gallery.
PARTICIPATING ARTISTS
Joel Babb • Susan Barnes • Matt Blackwell • Mary Bourke
Jeff Bye • Thomas Connolly • Ed Douglas • David Driskell
Grant Drumheller • Maurice Freedman • Kathleen Galligan
Roy Germon • Alison Goodwin • Robert Hamilton
Thomas Higgins • Jon Imber • Tina Ingraham • William Irvine
Henry Isaacs • Sarah Knock • Margaret Lawrence
George Lloyd • Frederick Lynch • Alan Magee • Daniel Minter
Nancy Morgan Barnes • Colin Page • Tom Paiement
Roy Patterson • Stephen Porter • Roger Prince • Sandra Quinn
Alison Rector • Glenn Renell • Alec Richardson
Kathi Smith • Mike Stiler • Neil Welliver • John Whalley