The Mother by Lynne Conner
Date: March 6, 2020 - March 15, 2020 (Sunday, Wednesday, Thursday, Friday, Saturday)
Time: 07:30 PM - 09:30 PM
Location: Portland Stage Studio Theater, Portland
---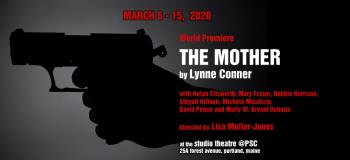 DRC will produce the World Premiere of Lynne Conner's most recent play THE MOTHER, a thought-provoking and heartbreaking exploration of what happens to a family in the wake of a school shooting perpetrating by their son.

With a non-linear timeline, highly-theatrical characterization (The Mother is played by two actors, one before the shooting and one after, who often speak to each other), and a seven-member cast, many of whom play multiple roles, the play reveals some of the less-talked about aspects of our national tragedy of mass shooting - the roles of suicide, the concept of aggrieved masculinity, and who the public condemns/blames for such acts of violence. Conner's play asks questions and provides few answers, so that the audience is invited to struggle along with the characters in trying to understand why school shootings occur and what, if any meaning, we can discover in them.

Dramatic Repertory Theater recognizes, fully embraces, and actively promotes the idea that Art can provoke. Audience members are empowered to leave a performance at any point if they need.