The Telling Room Presents Show & Tell, a Literary Spectacular
Date: October 2, 2020
Time: 08:00 PM - 09:30 PM
Location: Virtual premiere via Vimeo, Portland
---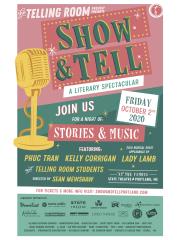 The Telling Room presents Show & Tell, a literary spectacular reimagined as a virtual cinematic, theatrical experience. Directed by Sean Mewshaw, this fundraising Vimeo event features storytellers Kelly Corrigan and Phuc Tran, solo musical guest Lady Lamb, and The Telling Room poets.
There are also plenty of surprises. For example, three poems featured in The Telling Room's upcoming anthology, A New World, come to life during the show. Experience the magic of Lulu Rasor's "Grendel's Mother Takes the Mic" dramatized by Sarah Clarke and Matt Delamater; Siri Pierce's "Plastic Palaces" directed by filmmaker Brooke Saias; and Benedita Zalabantu's "Drop of Melanin and Blood" directed by filmmaker Egide Foxworth.
Tickets sales help ensure The Telling Room can continue to empower youth in Maine and beyond through writing.