The Vintage Vocal Quartet will debut at The Dance Hall in Kittery
Date: April 29, 2016
Time: 07:30 PM
Location: The Dance Hall, Kittery
---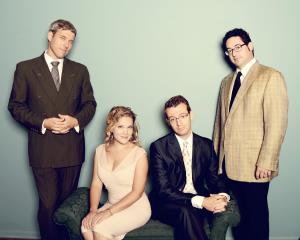 On Friday, April 29 at 7:30 PM The Vintage Vocal Quartet will debut at The Dance Hall in Kittery. VVQ brings to life the sweet harmonies of the big band era. And they do it while providing their own swinging instrumental accompaniment.
The group's repertoire is inspired by groups like the Glenn Miller Orchestra's Modernaires, the Nat King Cole Trio, the Delta Rhythm Boys, the Andrews Sisters, and the Tommy Dorsey band's Pied Pipers. Singers who came out of this hothouse of vocal talent include Bing Crosby, Frank Sinatra, Mel Tormé, Connee Boswell, Jo Stafford, and so many more.
The four singers of the VVQ also play instruments, so they pack a big sound into a small package. The members are:
Taylor O'Donnell - voice/piano
David Thorne Scott - voice/bass
Daniel Henderson - voice/trumpet
Paul Pampinella - voice/guitar
If you love vocal harmony and swing music, the Vintage Vocal Quartet has your number!
Tickets are $12 in advance and $15 at the door and can be purchased at www.thedancehallkittery.org and www.brownpapertickets.com.