Two Day Quilt Block Workshop - Vintage Japanese Textiles, Stitched and Pieced
Date: June 29, 2019
Time: 09:00 AM - 04:00 PM
Location: Arundel Farm Gallery, ARUNDEL
---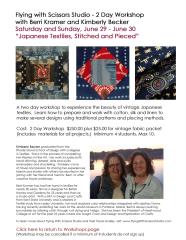 On June 29th and 30th, Arundel Farm Gallery presents a two day workshop taught by Flying with Scissors Studio to experience the beauty of vintage Japanese textiles. Learn how to prepare and work with cotton, silk and linen to make several quilt block designs using traditional American patterns and piecing methods. Flying with Scissors Studio is run by Berri Kramer and Kimberly Becker who together share a huge trove of knowledge working with textiles.
Berri Kramer has had her hand in textiles for nearly 50 years, first as a designer for Better Homes and Gardens for 25 years and then as a studio artist. With a BFA in Design and Crafts from Kent State University and Masters in Textile study from Leslie University, her work explores color relationships integrated wtih abstract forms. Having recently exhibited her work at the Jewish Museum in Portland, ME, Berri is always pushing boundaries by altering cloth through rust dying and indigo. She has been the president of Heartwood College of Art for the past 25 years whre she taught Color and Design and Exploration of Crafts.
Kimberly Becher graduated from the Rhode Island School of Design with a degree in Textiles. She is in the process of completing her Masters in Fine Art. Her work includes both hand stitching, dresses, dolls and quilts, embroidery and story-telling. Kimberly's love of travel and a passion for sharing her experiences, talents and stories wtih others has resulted in her joining with her friend and mentor, Berri, to offer creative travel workshops.