Two Day Workshop - Drawing with Watercolors and Colored Pencils with DeAnn Prosia
Date: July 27, 2019
Time: 09:00 AM - 04:00 PM
Location: Arundel Farm Gallery, ARUNDEL
---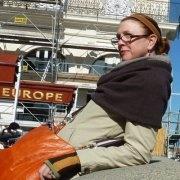 Two Day Workshop at Arundel Farm Gallery with DeAnn Prosia "Drawing with Watercolors and Colored Pencils." Participants will begin by laying down a loose watercolor painting and then drawing an image on top. By ading additional layers of watercolor and colored pencils a rich image will form. The method is great for those who are fearful of making a mistake, as any mishaps will become an exciting part of their painting. Artists will experiment with different mark making to create their own individual style for this technique. Although, drawing experience is a plus, it's not necessary as we will also talk about transferring images via transfer paper.
DeAnn L. Prosia was born in Chicago and now resides in New Jersey. While living in Germany she developed this watercolor style by combininb her love of drawing with her desire to add color after wroking in black and white for over 25 years. In Germany she had a solo exhibition at the Eisenturm Gallerie in Mainz, featuring 45 of her watercolor works.
Workshop is Saturday and Sunday, July 27 and 28, 2019. Besides cost of $275.00 students will bring a short list of materials. Minimum of 4 students are required to hold the course. Visit the gallery website for complete class description and easy online payment system.