Two Day Workshop - Japanese Woodblock Printmaking with Lisa Houck at Arundel Farm Gallery
Date: August 3, 2019
Time: 10:00 AM - 04:00 PM
Location: Arundel Farm Gallery, ARUNDEL
---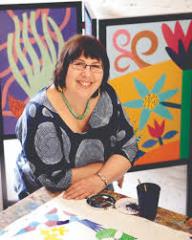 Japanese Woodblock is a technique rich in tradition dating back to the 17th century. Ukiyo-e means "pictures of a floating world" because these prints depicted all of daily life in Japan. In this workshop we will be carving wood blocks and inking them with watercolors and nori paste (a dispersing agent) to create painterly gradations of color called bokashi. Students will have the opportunity to create two and three colored prints and to experiment with a variety of Japanese papers. This non-toxic print medium is colorful and subtle and allows for beautiful transparent washes of color, as well as detailed textures and wood grain, all of which result in unique imagery. Please bring sketchbooks, photos and other inspirations to the first class. This workshop is appropriate for all skill levels.
Lisa Houck studied printmaking at Rhode Island School of Design back in the 1970s. Printmaking has remained an important part of her work during the past 40 years. Besides Japanese printmaking, Lisa's other mediums include: White Line Woodcut Printmaking, Watercolor and Oil Painting and Mosaics. Lisa has been commissioned to create art in public spaces including some beautiful mosaics in the Frieda Garcia Park and Iron Street Park in Boston.
To learn more about this and other workshops at Arundel Farm Gallery visit our website and sign up with our easy online system.