Two Day Workshop - White Line Woodcut Printmaking with Lisa Houck
Date: July 6, 2019
Time: 09:00 AM - 04:00 PM
Location: Arundel Farm Gallery, ARUNDEL
---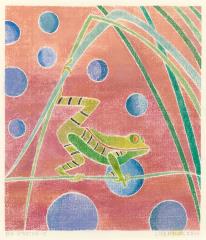 When the technique of White Line Woodcut was invented in Provincetown, MA over 100 years ago, it was a way to make Japanese Woodblock printing easier. Instead of carving a separate block for each color and registering the blocks, all of the colors are carved onto one block. Each area is hand painted with watercolors, making this a type of printing that is very painterly. In this workshop we will carve a line drawing into a pine board on day one and then spend our second day learning how to print your woodcut with watercolor.
This tradition of printmaking, invented a long time ago on the tip of Cape Cod, is still being carried out today by area artists. No printing press is required for this technique and students can easilycontinue exploring the medium at home. This class is appropriate for all skill levels. Come prepared with an idea for an 8"x10" print.
Lisa Houck studied printmaking in the 1970s at the Rhode Island School of Design and printmaking has remained an important part of her work during the last forty years. Besides White Line Woodcut Printmaking, Lisa's other mediums include: Japanese Woodblock Printmaking, Oil and Watercolor Painting and Mosaics.
Visit Arundel Farm Gallery's website for more information and easy online sign-up for the workshop.