University of Southern Maine Opera Workshop Presents the World Premiere of "Girl in Six Beats"
Date: April 22, 2018
Time: 02:00 PM - 03:00 PM
Location: Corthell Concert Hall, USM Gorham Campus, Gorham
---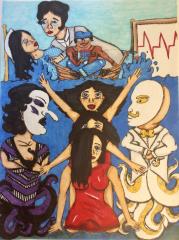 Music by Daniel Sonenberg
Libretto by Emelia Bailey, Ella Briman,
Makena Deveraux, Myah Garrison,
Emily Greene, Zoe Sliwinski, and Kaspar Wilder
Directed by Ellen Chickering
Music Direction by Scott Wheatley
Artwork by Kaspar Wilder

Commissioned by Opera Maine, made possible with the support of The Crewe Foundation and an OPERA America Innovation Grant, supported by the Ann and Gordon Getty Foundation
A collaboration between Opera Maine, The Telling Room and the USM School of Music
Opera Workshop students are collaborating with Opera Maine and The Telling Room to create a new opera composed by Daniel Sonenberg that will be premiered at USM and in various locations in the community during April.
The opera, approximately thirty minutes in length, depicts a teenage girl's internal journey of discovery through a purgatory-like dreamscape in the immediate aftermath of her attempt to end her own life. Prompted by her encounters in limbo with various opinionated characters all eager to design her eternal destiny, she asserts her own voice for the first time, and commits herself to life in order to restore her most important relationship - that with her mother. The opera is composed for five principal singers, a small chorus, and orchestrated for piano and small percussion (performed by the singers).
In addition to this world premiere, the program will include opera scenes performed by USM Opera Workshop students.
Tickets: $8 adults, $5 students, seniors, USM employees and alumni
Corthell Concert Hall, USM Gorham Campus