Visiting Artist Martin Weinstein: Resonance and Memory exhibition artist
Date: November 3, 2017
Time: 01:00 PM - 02:00 PM
Location: Burnham Lounge, Gorham
---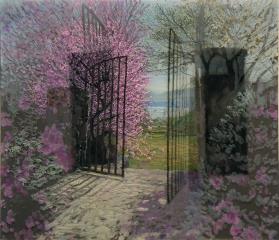 Visiting Artist Martin Weinstein: Resonance and Memory exhibition artist
Friday, November 3, 1pm - 2pm, Burnham Lounge, Robie Andrews Hall, Gorham campus
Weinstein paints disparate elements of the same composition on separate sheets of acrylic and layers them to create a scene. Weinstein shows his work in New York City and across the nation.
Martin Weinstein was born in New York in 1952. His interest in visual layering began with a toy theater as a child, when he made sets with wings, drops, and scrims to explore and heighten reality.
Weinstein, whose father taught him to paint, started working in watercolors in his youth. He studied painting at the Tyler School of Art, graduating with a BFA in 1974. After school Weinstein continued to paint abstractly, but always with layered elements. In the late 1990s, he started painting on layered sheets of plastic out in the landscape, incorporating different times into the successive layers.
The pressure of the changing sky and light add urgency to the artist's plein-air process. By painting on layers of transparent acrylic, he juxtaposes visual elements using brushstrokes that are physically independent of the lower layers.
In the last few years, using slower-drying acrylic, Weinstein's paintings have become more intuitive and dynamic, with a new freedom in altering the layered image. Any subject could be depicted this way, but he has chosen as his principal subject a landscape he has known since youth, the woods, gardens and river vistas of his family home.
http://www.martinweinstein.com/Paintings
All exhibitions and events hosted by the USM Art Department and Gallery are free and open to the public. To learn more about 2017 exhibitions and programs, visit the USM Art Galleries website.
Filter Events
Venue
Burnham Lounge
Robie Andrews Hall
37 College Ave.
Gorham
ME
04038
Carolyn Eyler
207-780-5008
ude.eniam@relyec