Women Who Risked Everything to Save Music WWII
Date: March 1, 2024
Time: 05:00 PM - 08:30 PM
Location: Franco Center, Lewiston
---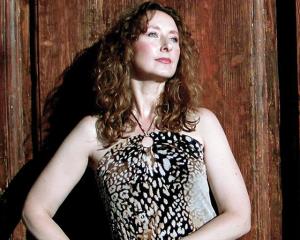 PHOTO CAPTION: "The Women Who Risked Everything for Freedom" will be presented by Malinda Haslett in a concert program that features her soprano vocals, Scott Wheatley on piano, and a slideshow of women composers. The concert is a collaboration between University of Southern Maine Franco-American Collection and the Franco Center and starts at 6 p.m. Friday, March 1. Admission is free but RSVP your seat at 207-689-2000.
USM professor to present 'Women Who Risked Everything for Freedom' concert at Franco Center March 1
LEWISTON—The Franco-American Collection at the University of Southern Maine, in collaboration with the Franco Center, will host "The Women Who Risked Everything for Freedom" at the 46 Cedar Street, Lewiston venue on Friday, March 1. Doors open at 5:30 p.m. and the program starts at 6 p.m. There is no admission fee. Blue Jay Coffee will provide pastries, coffee, and tea for sale.
Only 428 seats are available.
"The Women Who Risked Everything for Freedom" is a program about women composers who established a resistance network in 1941 Paris. "They put themselves at great peril as they were Jewish, and they sought to save French music, culture, and lives. Only the music of men at that time is remembered," said Grammy-nominated soprano Malinda Haslett, the University of Southern Maine's School of Music leader of the Voice Department.
Research completed by Haslett has revealed, "Without recordings, music is lost, rendering history incomplete. Such is the case with the music of two prolific Jewish female composers named Claude Arrieu (née Louise-Marie Simon) and Elsa Barraine. These two women founded the Front National des Musiciens, a resistance network in 1941 occupied France. The purpose of the FNM was to save artists and art from annihilation while simultaneously preserving French culture and lifting morale. These two women put their lives in great peril, programming public concerts of 'degenerate' composers, illegally funneling music to artists in hiding, and publishing an underground newspaper instructing anti-Vichy behavior. When the war ended, their efforts went unrecognized, and their music fell into obscurity."
FNM was responsible for programming music for Radio France for the eventual Liberation. "Arrieu's compositions were written clandestinely, sometimes by candlelight in her hiding place within the walls of Radio France. She wrote over 100 songs for classical voice, and yet none has ever been recorded," said Haslett. This was in part due to her gender and in part due to cultural circumstances.
Dame Alice Esty, a Maine native, soprano, and philanthropist commissioned Arrieu to write for her after the war ended. Esty lived in Lewiston. The original manuscripts that Arrieu wrote for Esty lie in the archival collection at Bates College.
"The Franco Center is thrilled for this opportunity to collaborate with the Franco-American Collection and for the support shown for the concert from a widespread audience," said Denise Scammon, development director at the Franco Center.
The goal of the Franco Center concert is to honor Arrieu, Esty, and Maine's contribution to the classical vocal music canon. Anna Faherty, archivist at the Franco-American Collection, said, "The concert will also honor other French women who used their music as a method of protest, change, or revolution; including the music of Nadia Boulanger, one of the greatest composers and teachers of the 20th Century, and Poldowski, who went solely by her male pseudonym, presenting herself against the social norms of her era and rejecting her wealthy family's assistance."
A slideshow and talk will be part of the evening's program. Haslett's singing will be accompanied by Scott Wheatley on piano.
Firmly established on the world stage as a multifaceted performer and international scholar, Haslett has over 30 leading roles to her name. Her North American operatic highlights, including those in Canada and Mexico, are comprised of titular roles: Violetta in "La Traviata," Juliette in "Roméo et Juliette," and Marie in "La Fille du Régiment." Other significant roles include: Mimí and Musetta in "La Bohème," Nedda in "I Pagliacci," Susanna in "Le Nozze di Figaro," Adina in "L'Elisir d'Amore," Norina in "Don Pasquale," Pamina, Erste Dame, and Papagena in "Die Zauberflöte," Oscar in "Un Ballo in Maschera," Leïla in "Les Pêcheurs des Perles," Nannetta in "Falstaff," both Donna Anna and Zerlina in "Don Giovanni," and a world premiere performance of Lulu in the Grammy Award-winning "Elmer Gantry," by Robert Aldridge and Herschel Garfein, and Erste Mädchen in Hindemith's "Das Nusch-Nuschi," which had its American premiere in Lincoln Center's Avery Fisher Hall
Haslett has served on the vocal faculties of University of Pennsylvania, Stony Brook University, and Towson University, and is a recipient of the prestigious Rotary International Ambassadorial Scholarship and is currently a William J. Fulbright Scholar semi-finalist. She is a former staff member at the Metropolitan Opera.
Haslett earned her Doctor of Music in Arts degree at Stony Brook University where she specialized in early-20th century French repertoire. She has also earned degrees from Loyola University, Temple University, and Accademia Internazionale delle Arti (Rome).
In addition to her musical life, Haslett has a culinary degree from The Institute of Culinary Education (New York), has run two New York City Marathons, and is a wildly passionate lover of animals.
About "The Feminine Voice of Protest" Haslett writes, "The current climate to champion women and under-represented composers has arrived. My recordings and articles, once disseminated, will serve as the definitive source for works by women composers of early-20th century France. They will more than double the number of known works by women from this time period."
Support for this concert comes from Maine Advisory Associates; a Friend; Temple Shalom; UMaine Judaic Studies; and UMaine Women's, Gender, and Sexuality Studies.
Watch and listen to Malinda Haslett perform on stage at this link: https://www.malindahaslett.com/recordings
The Franco Center is at 46 Cedar St., Lewiston. Parking is available in the mill lot. The building is handicap accessible on the Lincoln St. Alley side.
Filter Events
Venue
Franco Center
46 Cedar Street
Lewiston
ME
04240
Organization
Multiple
Box Office
207-689-2000
gro.retnecocnarf@eciffoxob