Zoom talk by artist Alison Rector with painter Linden Frederick
Date: September 23, 2020
Time: 05:00 PM - 06:30 PM
Location: Courthouse Gallery Fine Art, Ellsworth
---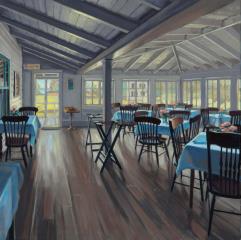 ZOOM talk, Wednesday September 23, 5pm
Alison Rector talks about "Hours of the Day" paintings in conversation with fellow artist Linden Frederick
On Wednesday September 23, Courthouse Gallery Fine Art presents a Zoom artist talk with Alison Rector. The talk accompanies Rector's exhibition of 20 new paintings titled "Hours of the Day" currently on view at the gallery and on the gallery website. In speaking about her work, Alison will be joined by artist Linden Frederick for an engaging conversation between 2 artists. Alison says "Linden is a masterful painter, a colleague and friend. In the mid-1990's I studied painting with Linden for several years in his studio where we'd meet regularly to discuss color theory, grey scale values, composition and paint handling. I always enjoy talking about art with Linden."
Alison Rector is a representational painter known for her luminous paintings of interiors. Rector's paintings are psychological portraits of forgotten places. She often looks for ordinary or neglected spaces in order to depict an extraordinary moment. Painting with oils she captures light falling across objects or filtering through windows and doors to create a sense of atmosphere and quiet mystery. She lives and works in mid-coast Maine and South Portland.
Linden Frederick has been living and painting in Maine for 30 years. Although he is represented by Forum Gallery in NYC most of his work is based on small town Maine themes at dusk or night.
Join these 2 artists on 9/23 as they discuss how Alison uses color and light in "Hours of the Day", how they make paintings and whatever else tickles your fancy.