In Plain Sight: Penobscot County
---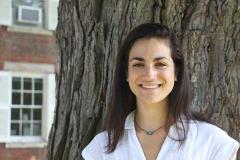 Hi. My name's Alex and I'll be writing about my many adventures photographing public art around Maine for the rest of the summer. The Maine Arts Commission has this map pinning public art locations all around the state, so check it out for yourselves!
ART IS EVERYWHERE
Art is everywhere, but in this oh-so-advanced technological age, it's easy to get lost in distractions--especially when Google Maps is set on leading you the wrong way into a one-way street.
Okay, maybe I'm a little directionally challenged, but after all, I've been sent on a mission by the Maine Arts Commission to photograph public art in Penobscot County and I have absolutely no idea where I am. Even though I go to college in Maine, Bangor is the furthest north I've been in the state, which is pathetic.
The goal of my mission is to catalog the works commissioned by Percent for Art, a program that provides funding for public art around the state. As a devoted intern of the Maine Arts Commission, I've taken this task upon myself, armed with a camera and a Nalgene water bottle.
My first stop is the Penobscot Judicial Center. As an English major and young human on this Earth, I can honestly say that I never imagined myself giddily roaming the halls of a government building. I never really imagined myself ever using the word "giddily" though, so look out, America!
When I put my things in the little plastic tray to gain entrance, the security guards looked at me curiously and all of a sudden I became extremely aware of my own discomfort.
Was I even allowed to be there? This question ran in and out of my head like my bag on the conveyor belt. I saw people in suits firmly shaking hands, security guards pacing the foyer, the seal of Maine staring down at me. I paused, but then remembered my mission.
Yes! Of I was allowed to be there! I was there to see the art and public art is public and that means it's accessible to everyone…even those who can't be sure of the exact definition of "paralegal"…
Once the security officers gave me the all-clear, I grabbed my things and started on my journey. It was awesome. I saw stained glass windows depicting majestic mountains, wood carvings alive with the flowing Penobscot River, gorgeous canvas panels portraying Maine's four seasons. Nina Jerome, Judith Batty, and Edward Harrow absolutely bring the landscape of Maine inside, and it was all there, it was all inspiring, and it was all free for my viewing pleasure. This is why I live in Maine, and this is why I work for the Maine Arts Commission.
I went to 5 other stops during my trip to Penobscot County, and each art installation surprised me more than the last. At Hampden Academy, Aaron Stephan's BECOMING dominates an entire second-level wall with its innovative world map, Camden Hall at University College, Bangor is filled with Jim Nickelson's serene photography, and the rest, well, that you'll have to see for yourself.
Art is everywhere, but public art can be hidden in places you would least expect. There's plenty of exploring to be done in Maine, so why not do something different? Go to your local courthouse, that random building you've never heard of on campus, the fourth floor of your doctor's office that you've never been because your appointments are always on the first. Discovery! It's great, and it's even greater when it comes for free, from life, from art.
Alexandra Moreno is an intern at the Maine Arts Commission, a rising senior at Bowdoin College, and a human. She enjoys writing, collaging, and fun.
View next blog post - "The Future" - Schools in Portland