In Plain Sight: The Future!
---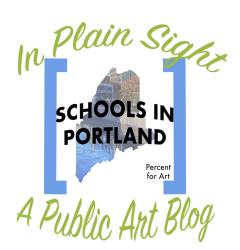 Hi. My name's Alex and I'll be writing about my many adventures photographing public art around Maine for the rest of the summer. The Maine Arts Commission has this map pinning public art locations all around the state, so check it out for yourselves!
THE FUTURE
Kids and art, art and kids. Are they the most important things in the world? Maybe. They'll both be around far after we're gone, continuing to create meaning and beauty and happiness as long as Earth keeps spinning on its axis. And here in Maine, their value is treasured.
These past three weeks have exposed me to the importance of kids' relationships to the arts. One doesn't exist without the other because it's childlike inspiration that produces some of the best art in the world. I'm obviously not an expert, but I feel like that's true, and I also feel like it's up to adults to ensure that kids and art have the opportunity to interact in meaningful ways.
In Maine, teachers, artists and leaders make a deliberate effort to infuse art into the lives of children, and it shows. On my last trip for the Maine Arts Commission, I photographed the public art in the greater Portland area. I planned my trip based on locations that boasted the highest number of public art pieces, and every single one of my stops was a public school. Every. Single. One.
The only works of art I can remember being in my elementary and middle schools were uninteresting portraits of principals and superintendents of the past, each with his eyes staring straight ahead at nothing in particular. But for example, at Hall-Dale Elementary School, there are 3 incredible art installations that are impossible to ignore on the way to class.
Cynthia Davis's "River, Streaming" is one of those pieces, a multicolored sculpture made of Mylar squares that represent the Kennebec River and Maine's gorgeous landscape. It moves and shimmers overhead, producing an entirely different spectacle at any viewer's perspective. I hope that Hall-Dale Elementary's public art installation inspires all those who walk underneath it. By utilizing Percent for Art, the school has given kids a model for artistic imagination, most likely propelling a number of students towards unlocking their creative potential.
What does this all mean? It's nice to throw out words like "creative potential" and "artistic imagination," but the fact is that not all children are born with artistic inclinations. That's why programs like Percent for Art are so important; they ensure that children have opportunities to interact with the arts in diverse and accessible ways. And by giving kids effective tools to grow, anything can be within their reach.
Inspiring children towards creativity happens both deliberately and naturally. Students in Maine are lucky to have state initiatives that support them and the arts, but there's always room for improvement. The future of kids and art depend on our support, which is scary, but also awesome.
Next blog post - "Rural Maine"
Previous blog post - "Art Is Everywhere" - Penobscot County
Filter Press Releases
Contact Information
Alexandra Moreno
193 State Street
Augusta
ME
04333
203-505-8904
ude.niodwob@oneromsa