TAKE 5 -Get To Know: Caroline Musica Koelker
---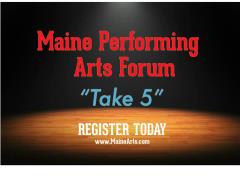 "TAKE 5" - Maine Performing Arts Forum
This spotlight series features the panelists for the Maine Performing Arts Forum on September 18 in Brunswick. Each speaker has provided a mini-biography along with 5 answers so we can get to know them better prior to the event. This diverse group of producers and presenters—in theater, music, and dance, from orginzations from throughout the state—are known for their success and leadership within Maine's performing arts sector. For "Take 5" each speaker has provided a mini-biography along with 5 answers to "get to know" the panelists better. Check back here for new Take 5's every day leading up to the Performing Arts Forum. Learn more about the forum and
Caroline Musica Koelker - Opera Maine
Caroline Koelker is the managing director for Opera Maine. She is responsible for implementing all aspects leading up to the opera company's productions, outreach, and fundraising. Koelker brings diverse experience to the position ranging from performing opera to fundraising for a school of music to acting as communications manager for a community activities organization. Koelker most recently served as event coordinator and development manager for Longy School of Music of Bard College in Cambridge, Massachusetts, where she earned her Master of Music in Opera Performance. A native of Maine, she earned her Bachelor of Music in Vocal Performance at the University of Maine. Koelker continues to sing and perform in New England and as a member of Vox Nova Chamber Choir.
Take Five Answers:
What single event/choice has impacted your career the most? I decided to apply for my current position with Opera Maine just after performing in the 2015 production of Tosca. I couldn't imagine any way to be closer to being a part of opera in Maine and ultimately impacting the art form and the interweaving of opera into our communities more than I ever could have as a singer.
What is your favorite thing about working at your organization?
My favorite things about working at Opera Maine are speaking with the community members that we serveand those that support us and seeing/hearing the audience reaction when the current opens for our productions.
What is a recent good book you have read?
Strengths Based Leadership by Tom Rath. Learning how to lead by maximizing your strengths and recognizing the strengths of others leads to stronger relationships, teams and organizations.
What is your favorite thing about living in Maine?
Where to start! Raising my family (Noah 7 and William 2) with my husband Josh near their grandparents and 16 cousins close to nature with lots of nurture.
What do you like to do outside of work?
When I'm not working, I'm spending time with family, tending to my beehives, and singing.
The Maine Performing Arts Forum is being hosted by the Maine Arts Commission on September 18 in Brunswick at the newly renovated Frontier Café in Brunswick. The full-day event includes a morning session for performing arts producers and an afternoon meeting for those who present the work of touring artists. Learn more and register for the Maine Performing Arts Forum
Filter Press Releases
Contact Information
Ryan Leighton
193 State Street
SHS 25
Augusta
ME
04333
207-287-2726
vog.eniam@nothgiel.j.nayr