TAKE 5 -Get To Know: Matt Cahoon
---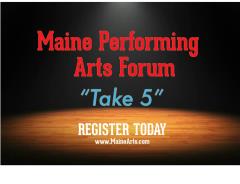 "TAKE 5" - Maine Performing Arts Forum
This spotlight series features the panelists for the Maine Performing Arts Forum on September 18 in Brunswick. Each speaker has provided a mini-biography along with 5 answers so we can get to know them better prior to the event. This diverse group of producers and presenters—in theater, music, and dance, from orginzations from throughout the state—are known for their success and leadership within Maine's performing arts sector. For "Take 5" each speaker has provided a mini-biography along with 5 answers to "get to know" the panelists better. Check back here for new Take 5's every day leading up to the Performing Arts Forum. Learn more about the forum and
Matt Cahoon - Pinkerton Academy
Matt Cahoon is the president of Arts Presenters of Northern New England and the Director of Cultural Programming at Pinkerton Academy in Derry, NH. He is responsible for managing the 892-seat Stockbridge Theatre. Matt curates a season of approximately 25 professional touring artists per season while prioritizing artists whose work best dovetails with Pinkerton's educational mission. Matt is also the co-founder of theatre KAPOW, a Manchester, NH based ensemble theatre, and has directed many productions for the company and has won multiple NH Theatre Awards for direction and scenic design. Matt holds Masters in Arts Administration from Goucher College and his theatre training includes work with Double Edge Theatre Company, SITI Company, the New England Center for Circus Arts, and Range of Motion Arts.
Take Five Answers:
What makes your organization unique?
Pinkerton is a private independent school that serves as the only high school for six towns. This model allows us to do things other independent schools can't while maintaining the financial stability that comes with guaranteed enrollment. Pinkerton has an enrollment of just over 3200 students. While our size can have its challenges, it opens up a tremendous number of opportunities that don't exist at other schools.
What is your favorite thing about working at your organization?
I love when I can put professional touring artists into a classroom with students. That is particularly rewarding when the artists are from overseas or represent communities very unfamiliar to the typical high school student in NH. The exchange is so rich and I truly believe that both the students and the artist walk away from the encounter for the better.
What do you like to do outside of work?
When not at my theatre, I spend a lot of time at other theatres. I have been a stage director for over 10 years and started my own theatre company in 2008. I direct a number of shows for that company and still have some time to do freelance shows at theatres throughout New England.
What did you want to be when you were growing up?
My parents run a nursing home so I grew up in a household with a pretty heavy sense of service to others. I decided pretty early on that I wanted to be a psychiatrist and I actually went to college as a bio-chemistry major in the pre-med track. That did not last very long, however, and before my first semester ended, I had changed my major to English.
What is a recent good book you have read?
I am currently in the process of reading the 100 greatest American novels (according to the people at Good Reads). I have recently found myself fairly stunned by the work of Willa Cather. O Pioneers! and My Antonia are so beautifully crafted. I am glad that I am reading them now when I can appreciate them instead of when I was a teenager with no clue.
View the other Performing Forum Arts Panelists:
Brian Hinrichs of Bangor Symphony Orchestra
Michael Miclon of Johnson Hall Performing Arts Center.
The Maine Performing Arts Forum is being hosted by the Maine Arts Commission on September 18 in Brunswick at the newly renovated Frontier Café in Brunswick. The full-day event includes a morning session for performing arts producers and an afternoon meeting for those who present the work of touring artists. Learn more and register for the Maine Performing Arts Forum
Filter Press Releases
Contact Information
Ryan Leighton
193 State Street
SHS 25
Augusta
ME
04333
207-287-2726
vog.eniam@nothgiel.j.nayr