TAKE 5 -Get To Know: Brian Hinrichs
---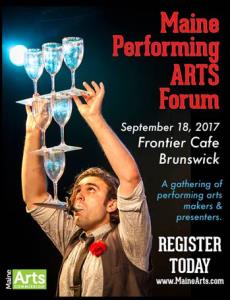 This spotlight series features the panelists for the Maine Performing Arts Forum on September 18 in Brunswick. Each speaker has provided a mini-biography along with 5 answers so we can get to know them better prior to the event. This diverse group of producers and presenters—in theater, music, and dance, from orginzations from throughout the state—are known for their success and leadership within Maine's performing arts sector. For "Take 5" each speaker has provided a mini-biography along with 5 answers to "get to know" the panelists better. Check back here for new Take 5's every day leading up to the Performing Arts Forum. Learn more about the forum and
Brian Hinrichs has been the executive director of the Bangor Symphony Orchestra since 2013. He previously worked in marketing for the Madison Opera and Madison Symphony Orchestra before completing his MBA at UW-Madison's Bolz Center for Arts Administration. He was a Fulbright U.S. Student Fellow to Thailand in 2007 and his writings have appeared in Symphony Magazine and Opera America Magazine, as well as on ArtsFwd.org. A cellist by training, he earned his B.A. in English and Music at Colgate University. He currently resides in Bangor with his wife, Alexandra, and their kids Nate and Sam.
Take Five Answers:
What makes your organization unique?
We have a culture of enthusiasm. It sounds weird, but during a strategic planning process a few years ago, we really codified it, because it is not at all the norm at orchestras. That enthusiasm breeds an openness to new ideas and experimentation, a passion at the board level for fiscal responsibility, and an excitement and congeniality on stage among our musicians.
What made you decide to apply for, and eventually accept, your current job?
I had been more a marketing specialist in previous jobs and felt I wasn't fully tapping into my passion for not just promoting classical music, but shaping an arts non-profit that could thrive in the 21st century. The BSO is one of the oldest orchestra in the country, and it's still growing and getting better because our community cares about it. I could feel that when I was interviewing and it's true to this day.
What single event/choice has impacted your career the most?
Being accepted into the New York Youth Symphony when I was a senior in high school. I was last chair in a cello section that had kids from Juilliard and Curtis in it and that performed regularly at Carnegie Hall - it made me realize two things, almost instantly: that I wouldn't be a professional cellist, and that I still wanted to build my career around classical music.
What is your favorite thing about living in Maine?
The quality of life, for sure. No matter where you are in Maine, you can find a good hike, good food, and good people.
What is a recent good book you have read?
A Man Called Ove by Fredrick Backman. I had been in a fiction rut, pretty much devouring more news than is healthy, and this helped snap me out of it.
View the other Performing Arts Forum Panelists:
Michael Miclon of Johnson Hall Performing Arts Center.
The Maine Performing Arts Forum is being hosted by the Maine Arts Commission on September 18 in Brunswick at the newly renovated Frontier Café in Brunswick. The full-day event includes a morning session for performing arts producers and an afternoon meeting for those who present the work of touring artists. Learn more and register for the Maine Performing Arts Forum
Filter Press Releases
Contact Information
Ryan Leighton
193 State Street
SHS 25
Augusta
ME
04333
207-287-2726
vog.eniam@nothgiel.j.nayr