TAKE 5 -Get To Know: Lindsey Bourassa
---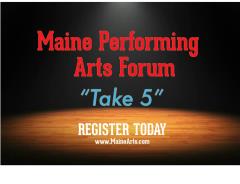 This spotlight series features the panelists for the Maine Performing Arts Forum on September 18 in Brunswick. Each speaker has provided a mini-biography along with 5 answers so we can get to know them better prior to the event. This diverse group of producers and presenters—in theater, music, and dance, from orginzations from throughout the state—are known for their success and leadership within Maine's performing arts sector. For "Take 5" each speaker has provided a mini-biography along with 5 answers to "get to know" the panelists better. Check back here for new Take 5's every day leading up to the Performing Arts Forum. Learn more about the forum and
Lindsey Bourassa is a contemporary flamenco dancer, choreographer, and the founding-director of Bourassa Dance Studio of Portland, Maine, where she teaches Flamenco Arts. She completed her Certificate of Professionalization in Flamenco Arts in Sevilla, Spain in 2012 at El Centro de Arte y Flamenco de Sevilla. She has dedicated herself to the study of flamenco since 2004, studying in Spain, France, Canada, and the United States with flamencos such as Miguel Vargas, Esperanza and Curro Fernandez, Carmen Ledesma, Francis Núñez Cabello, La Choni, and Ursula Lopez. Since 2008, Lindsey has performed throughout New England as a co-founding member of Olas Music and Dance. As a solo artist, she has taught and performed in the US and Spain. Lindsey is the recipient of the Maine Arts Commission's Visibility Grant (2013) and Project Grant (2016). ​
Take Five Answers:
What makes your organization unique?
As a performing artist, I create unique, often multi-genre and interdisciplinary work that highlights flamenco through both a traditional and contemporary lens. I believe I am currently the only company in the state of Maine that focuses solely on flamenco dance instruction and performance. I have been able to build a small community who is passionate about practicing and witnessing flamenco dance and I have had the honor of hosting several artists from outside of Maine (namely Spain, Morocco and New York) to teach workshops, perform, and share their artistry and knowledge.
Photo Credit: Arthur Fink
What is your favorite thing about working at your organization?
Photo Credit: Arthur Fink My favorite part of being a performing artist is having the opportunity to spend most of my time in a creative space, making, teaching or performing work. I feel that making and sharing one's art is strengthening and vulnerable in the best possible sense. It is a euphoric, meditative experience that connects me to a deeper purpose and creates a sense of universality and solidarity with audiences, students, and the artists with whom I work. This is very humbling and beautiful.
What single event/choice has impacted your career the most?
The choice that most impacted my career was to complete a year long intensive training in Sevilla, Spain at El Centro de Arte y Flamenco de Sevilla under the direction of Miguel Vargas and Esperanza Fernandez. Learning flamenco for countless hours each day within the context of its birthplace, culture, and language was invaluable to my understanding. Each subsequent training in Spain continues my understanding in this lifelong study.
What advice would you give yourself now if you were starting in your current position?
I would advise myself to prioritize what means most to me - creating and performing original work, as well as training - over running a studio. This is still a challenge and requires balance and boundaries. I would also tell myself to let the small things go, to trust the process and to have faith in the vision.
What is a recent good book you have read?
Dress Your Family in Corduroy and Denim by David Sedaris & Quiet by Susan Cain
View the other Performing Arts Panelists:
Brian Hinrichs of Bangor Symphony Orchestra
Michael Miclon of Johnson Hall Performing Arts Center.
The Maine Performing Arts Forum is being hosted by the Maine Arts Commission on September 18 in Brunswick at the newly renovated Frontier Café in Brunswick. The full-day event includes a morning session for performing arts producers and an afternoon meeting for those who present the work of touring artists. Learn more and register for the Maine Performing Arts Forum
Filter Press Releases
Contact Information
Ryan Leighton
193 State Street
SHS 25
Augusta
ME
04333
207-287-2726
vog.eniam@nothgiel.j.nayr