TAKE 5 -Get To Know: Jennifer DeChant
---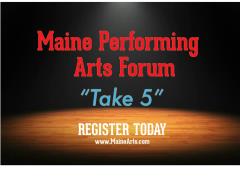 This spotlight series features the panelists for the Maine Performing Arts Forum on September 18 in Brunswick. Each speaker has provided a mini-biography along with 5 answers so we can get to know them better prior to the event. This diverse group of producers and presenters—in theater, music, and dance, from orginzations from throughout the state—are known for their success and leadership within Maine's performing arts sector. For "Take 5" each speaker has provided a mini-biography along with 5 answers to "get to know" the panelists better. Check back here for new Take 5's every day leading up to the Performing Arts Forum. Learn more about the forum and
Jennifer DeChant has been the executive director of the Chocolate Church Arts Center in Bath since 2013. Under her leadership, the organization is transitioning from a music-only venue to a community arts center intersecting with the midcoast region. Operationally, she has rejuvenated the facility through infrastructure improvements and diversified funding resources, volunteer management and board development.
Her professional background includes economic development with a community development corporation and within the Maine Department of Economic and Community Development. As a marketing professional, DeChant worked for Portland-based manufacturing company and for a credit union. DeChant is currently serving her third term as State Representative, House District 52 that includes all of City of Bath.
Take Five Answers:
What did you want to be when you were growing up?
The first thing I remember wanting to be was a florist, then a bus driver. However, most of my vocational efforts were founded in communications and marketing.
What made you decide to apply for, and eventually accept, your current job?
I had been a board member a few years earlier. I recognized the potential. When the position became available the organization had all but ground to a halt. I believed in the potential and the relevance for the community. I had a vision for creating greater synergy and promoting the economic impact of the creative economy. I am challenged and rewarded by making systems work.
What makes your organization unique?
The Chocolate Church Arts Center has a deep 40 year history within a 170 year old facility. So many entertainers and volunteers and performers have been on our stage.
What is your favorite thing about working at your organization?
The best people, who are dedicated to the success of the organization, surround me. No two days are the same and each day offers a creative outlet.
What advice would you give yourself now if you were starting in your current position?
Everything takes longer than expected.
View the other Performing Arts Forum Panelists:
Brian Hinrichs of Bangor Symphony Orchestra
Michael Miclon of Johnson Hall Performing Arts Center.
The Maine Performing Arts Forum is being hosted by the Maine Arts Commission on September 18 in Brunswick at the newly renovated Frontier Café in Brunswick. The full-day event includes a morning session for performing arts producers and an afternoon meeting for those who present the work of touring artists. Learn more and register for the Maine Performing Arts Forum
Filter Press Releases
Contact Information
Ryan Leighton
193 State Street
SHS 25
Augusta
ME
04333
207-287-2726
vog.eniam@nothgiel.j.nayr