TAKE 5 -Get To Know: Aimee Petrin
---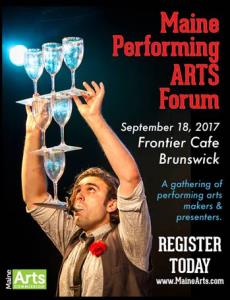 This spotlight series features the panelists for the Maine Performing Arts Forum on September 18 in Brunswick. Each speaker has provided a mini-biography along with 5 answers so we can get to know them better prior to the event. This diverse group of producers and presenters—in theater, music, and dance, from orginzations from throughout the state—are known for their success and leadership within Maine's performing arts sector. For "Take 5" each speaker has provided a mini-biography along with 5 answers to "get to know" the panelists better. Check back here for new Take 5's every day leading up to the Performing Arts Forum. Learn more about the forum and
Aimée M. Petrin is the Executive & Artistic Director of Portland Ovations, an 86-year-old multidisciplinary presenter. Since her 2006 arrival, Petrin has led the organization through three strategic planning processes; launched a new arts education and community-based outreach program; secured major funding from Jane's Trust and a new dedicated Endowment; led Ovations' first commissions of new works; introduced an expanded contemporary dance series and is actively building audiences in dance, contemporary chamber music and culturally specific art forms. Petrin was previously at the Flynn Center in Burlington, VT. She graduated with honors from the University of Vermont.
Take Five Answers:
What made you decide to apply for, and eventually accept, your current job?
Location. Location. Location. I'm a New Englander through and through and I knew Maine was one of the few other places I would want to live and have a career. Fortunate for me there was also a position at a fabulous organization that offered me the opportunity for professional growth.
What makes your organization unique?
Ovations is both an anchor, legacy institution with 86 years of history AND a grass-roots, on the ground, constantly evolving organization.
What single event/choice has impacted you career the most?
Imagining the possibility and taking the leap.
What did you want to be when you were growing up?
Early on it was a nurse, then for the longest time a veterinarian. I still think about a retirement career in animal rescue, especially wildlife.
What is one of your favorite jokes?
There was a guy driving around with a car full of penguins and he gets pulled over. The officer says: "this is crazy, you can't drive around with a car full of penguins. Get them to a zoo right away!" A couple of days later the officer sees the same car full of penguins, this time they are all wearing sunglasses. He once again pulls the driver over and says: "I thought I told you to take these penguins to the zoo!?!?!??!" to which the driver replied, "I did! and they had such a good time today we are going to the beach."
View the other Performing Arts Panelists:
Brian Hinrichs of Bangor Symphony Orchestra
Michael Miclon of Johnson Hall Performing Arts Center.
The Maine Performing Arts Forum is being hosted by the Maine Arts Commission on September 18 in Brunswick at the newly renovated Frontier Café in Brunswick. The full-day event includes a morning session for performing arts producers and an afternoon meeting for those who present the work of touring artists. Learn more and register for the Maine Performing Arts Forum
Filter Press Releases
Contact Information
Ryan Leighton
193 State Street
SHS 25
Augusta
ME
04333
207-287-2726
vog.eniam@nothgiel.j.nayr