TAKE 5 -Get To Know: Mitch Thomas
---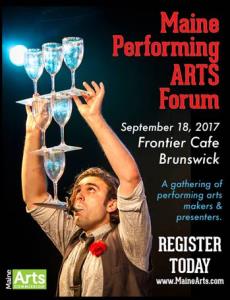 This spotlight series features the panelists for the Maine Performing Arts Forum on September 18 in Brunswick. Each speaker has provided a mini-biography along with 5 answers so we can get to know them better prior to the event. This diverse group of producers and presenters—in theater, music, and dance, from orginzations from throughout the state—are known for their success and leadership within Maine's performing arts sector. For "Take 5" each speaker has provided a mini-biography along with 5 answers to "get to know" the panelists better. Check back here for new Take 5's every day leading up to the Performing Arts Forum. Learn more about the forum and
Mitchell Clyde Thomas is the Executive Director of the Gendron Franco Center, an organization with a mission is to preserve Franco-American heritage, to celebrate the performing arts, and to welcome cultures to the Lewiston-Auburn area. Thomas has previously worked for Chapman House in Auburn and as Communications Director at Big Brothers Big Sisters of Southern Maine. He has also been an adjunct professor in the Humanities and Social Sciences Departments of Central Maine Community College and the choir director and organist of Calvary United Methodist Church in Lewiston. His prior experience includes working for March of Dimes, Mt. Blue Publishing (as editor of The Livermore Falls Advertiser), and the University of Maine at Farmington, where he served as Alumni Director.
Take Five Answers:
What made you decide to apply for, and eventually accept, your current job?
I have very involved in the performing arts world in Lewiston/Auburn and around all of central and western Maine for all of my adult life. I've been with the Franco Center's partner organization, L/A Community Little Theatre since 1984. I have been supportive of the Center since it opened its doors in 200, and was even a performer at some of the early events. When the position became open very suddenly in spring 2014, several people suggested I apply. Once I knew that the job would be a good fit, I did just that. Accepting was easy.
What makes your organization unique?
The transformation from "dying" house of worship to a magnificent living, breathing, vibrant performing arts center and community event venue.
What is your favorite thing about working at your organization?
Meeting with and working with interesting people, both the artists and the people who come to see them.
What did you want to be when you were growing up?
Several things -- Among them: an actor/singer in movies or on stage; A United Methodist Minister; a teacher (History, at first); and for a while, a super hero.
What advice would you give yourself when you started at your current position?
Find a way to focus more on the fundraising; or raise enough money to hire someone to help you raise even more.
View the other Performing Arts Panelists:
Brian Hinrichs of Bangor Symphony Orchestra
Michael Miclon of Johnson Hall Performing Arts Center.
The Maine Performing Arts Forum is being hosted by the Maine Arts Commission on September 18 in Brunswick at the newly renovated Frontier Café in Brunswick. The full-day event includes a morning session for performing arts producers and an afternoon meeting for those who present the work of touring artists. Learn more and register for the Maine Performing Arts Forum
Filter Press Releases
Contact Information
Ryan Leighton
193 State Street
SHS 25
Augusta
ME
04333
207-287-2726
vog.eniam@nothgiel.j.nayr