TAKE 5 -Get To Know: Anita Stewart
---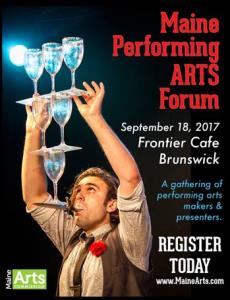 This spotlight series features the panelists for the Maine Performing Arts Forum on September 18 in Brunswick. Each speaker has provided a mini-biography along with 5 answers so we can get to know them better prior to the event. This diverse group of producers and presenters—in theater, music, and dance, from orginzations from throughout the state—are known for their success and leadership within Maine's performing arts sector. For "Take 5" each speaker has provided a mini-biography along with 5 answers to "get to know" the panelists better. Check back here for new Take 5's every day leading up to the Performing Arts Forum. Learn more about the forum and
Anita Stewart, Executive & Artistic Director of Portland Stage, is one of the few professional theater designers in the US serving in a leadership role at a regional theater. Stewart produced the world premieres of John Cariani's Almost, Maine; Last Gas and LOVE/SICK; Tom Coash's Veils; Monica Wood's Papermaker. Stewart graduated from Yale University and the Yale School of Drama. She is a member of United Scenic Artists 829 in set and costume design. She has taught at the University of Iowa, and the University of North Carolina.
Take Five Answers:
What is your favorite thing about working at your organization?
Because Portland Stage is such a small organization, I get to wear many hats. and participate in its life at many levels. From working with the Board on a strategic plan, to watching a run of a show with a director and talking through how to shape the piece, to painting scenery, to meeting with a supporter to hear their thoughts about the theater, I am always learning, always growing, always trying new things.
What made you decide to apply for, and eventually accept, your current job?
I create theater in order to connect with a community. As a freelancer, I'd been coming to Portland Stage, and it was one of my favorite theaters to come to. I didn't earn much here, but it was a great place to make art. Why? 1. The theater space itself is magical. The relationship between artist and audience in our theater is one of the best in the country. I love the challenge of designing something different every time I work in the space. 2. Portland is an incredible city. It is a great size to get things done. You can make an impact that is meaningful. People choose to be here because of place and that makes a strong vibrant and caring community.
What makes your organization unique?
What makes Portland Stage unique is just how much a relatively small group of individuals can manage to get done on such limited resources. Our goal is not just to produce work that is surface, but to make sure that it is work that has depth and meaning, that connects to and engages our community, that promotes conversation about issues in our society. When people first come to the theater, they don't understand why it would take so many people to put on a show but once they get inside and see the process and see how the art we create connects on so many levels, they are astonished that so much can be done by such a small company with such limited resources.
What is your favorite thing about working at your organization?
Meeting with and working with interesting people, both the artists and the people who come to see them.
What advice would you give yourself when you started at your current position?
Find a way to focus more on the fundraising; or raise enough money to hire someone to help you raise even more.
View the other Performing Arts Panelists:
Brian Hinrichs of Bangor Symphony Orchestra
Michael Miclon of Johnson Hall Performing Arts Center.
The Maine Performing Arts Forum is being hosted by the Maine Arts Commission on September 18 in Brunswick at the newly renovated Frontier Café in Brunswick. The full-day event includes a morning session for performing arts producers and an afternoon meeting for those who present the work of touring artists. Learn more and register for the Maine Performing Arts Forum
Filter Press Releases
Contact Information
Ryan Leighton
193 State Street
SHS 25
Augusta
ME
04333
207-287-2726
vog.eniam@nothgiel.j.nayr